Yes, I've been slacking on the blog. No, I haven't been slacking in real life. I've been working hard at work, and last weekend was the aforementioned wedding up in Albany. So here are a couple pictures of the vacation, and of course there will be much more later. I will also be sharing some interesting aspects of Europe that I have noticed from last year's Switzerland trip and this year's Germany/Austria trip. The cities that I visited on this trip were Munich and Hechingen (near Stuttgart, where my American cousin and his German family live) in Germany, and Salzburg and Vienna in Austria. In German, it's actually "München" and "Wien" (pronounced "Veen"), for Munich and Vienna, and the other two are the same in both languages. These first two pictures are from Munich. The first picture is a cute barmaid holding up a couple beers...just kidding. It's actually my cute wife doing that!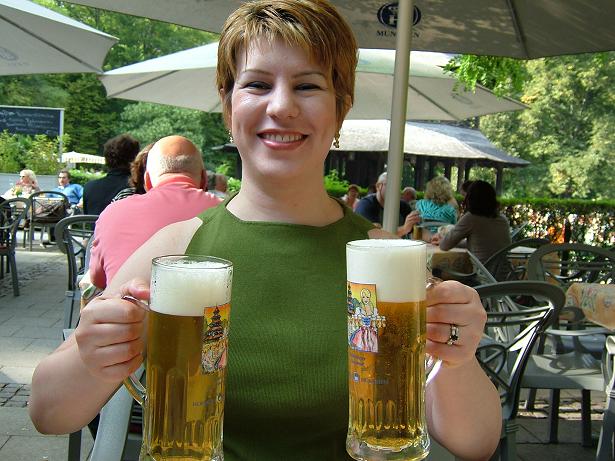 We were in the English Garden in Munich, which is a huge, almost Central Park proportioned park. It has fields, trees, a creek winding through it, lots of paths, a restaurant, a Chinese tower where they play live music quite often, some food stands selling pretzels, roasted nuts, and other goodies. Bikers were everywhere. A bunch of people were playing softball. Others were playing with frisbees. There were a couple spots where people were putting on impromptu concerts with bongo drums or xylophones or combinations of instruments, with small crowds of onlookers. We ate outside at the little restaurant there. We had just gotten off the plane shortly before we got there, and we decided to eat at the restaurant. Our waitress was very nice. I spoke a lot of German with her for the first part of the meal, but then she went over to English when she started talking about the lederhosen-clad musicians in the tower that they played a lot of American tunes. I had some sort of cut of steak with dried onions and a type of brown sauce on it I believe. Chris got the apple strudel for dessert, which I had a few bites of as well. It was incredible! It was served as a big thick slice in a bowl of vanilla pudding sauce. Best apple strudel I ever had, and to be honest I might have to include apple pie in that too! I should have gotten one for myself, but I knew there would be other opportunities. It's Germany's version of apple pie, a folk favorite, and they have it almost everywhere. Of course, I think Austrians claim to have invented it, but that's another story. They also claim to have invented the croissant. Who knows, maybe they did?

Anyway, the next day we had the world famous Hofbräuhaus beer hall high on the list of things to see. While we were finding things to do before dinner, we happened upon the Jagd und Fischerei Museum (Hunting and Fishing Museum), which had lots of stuffed animals of all kinds, and no, not beanie babies. These were all hunted and fished animals, and there was also quite an impressive collection of old rifles used by the gentry of the time, with fancy inlay patterns on the stocks and everything. The old sleighs were also pretty neat. I have pictures of those too, but for now here is a picture of me outside the museum with a bronze boar. More to come!