My grampa was born 90 years ago today! We sent him an album with some pictures from my sister's wedding. Happy birthday grampa! Some relatives are going over there today, including his sister Wilhelmina (Aunt Willie), who is 94, last I knew anyway. He lives in upstate NY, near Ithaca. Much of my extended family, including me, were born and raised in upstate NY. Our family lived just outside Auburn, which is about 30 miles SW of Syracuse. Here is a picture of grampa and I from last year.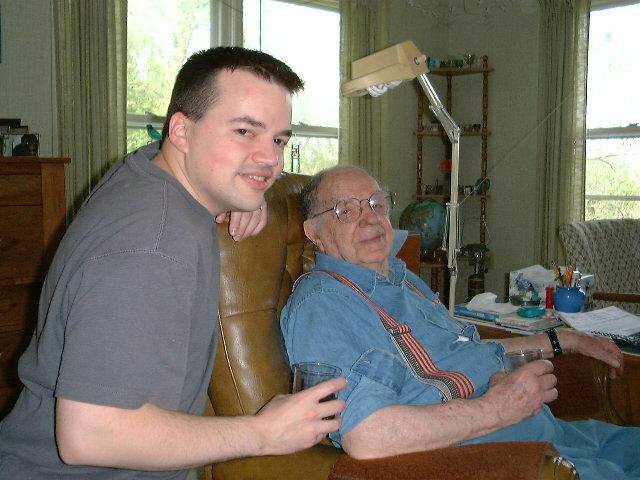 My parents are staying at our house for a long weekend visit, and I took them to see this game last night between the Nationals and the Mariners, which was great fun. It was tied going into the bottom of the eighth inning, 3-3, and then the Nats, who were never in the lead to that point, blew it open with a six-run eighth inning, and went on to win by that score, 9-3. You should have heard the roar when they got the go-ahead run. Very impressive. The Washington Nationals are DC's brand new baseball team. They are doing really well this year and are even leading the NL East so far! They were the Montreal Expos until the league moved them this year to Washington DC.

On a side note, if you see anyone who looks like this and has this look on his face, it's a good bet he has either killed someone or is about to. Proceed with caution.